Making a Booking
Some events now offer the ability for you to choose wheelchair and companion card tickets online. These events allow you to select from the interactive seating map. On the interactive map, look for the wheelchair logo. Click on the blue wheelchair logo then click ADD for the option that suits your needs.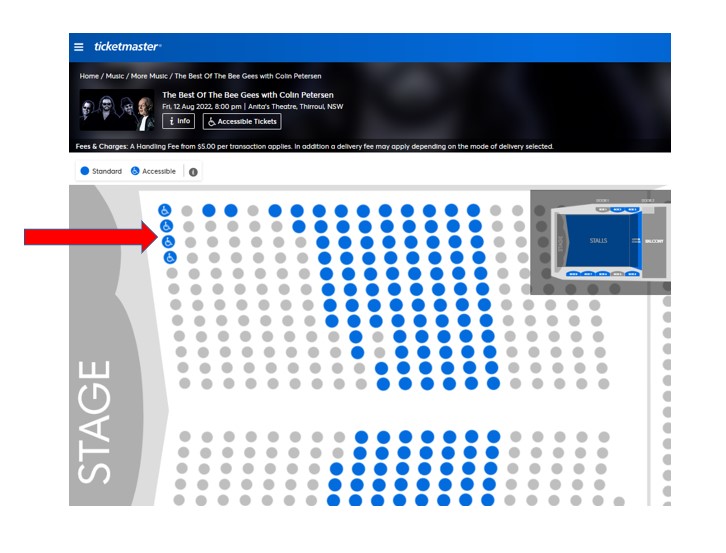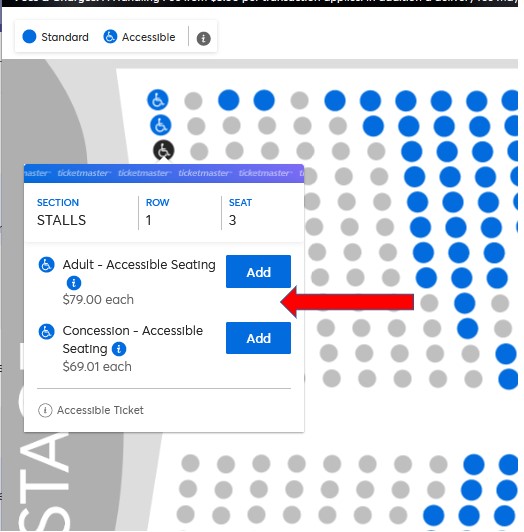 You can still book for accessible booking requirements, including wheelchair and/or companion card requirements by the following methods:
Call our Accessible Bookings line: 1300 446 925 if you need to talk to a Customer Service Representative about your Accessible Booking/Tickets. Current Service Hours: Monday – Sunday 9am – 5pm AEST ONLY. This phone number is reserved for patrons with accessibility requirements and companion cardholders.
Or via our request form here.
When using the online request form please be sure to:
1. Select Accessible bookings from the 'Select a topic' drop-down menu.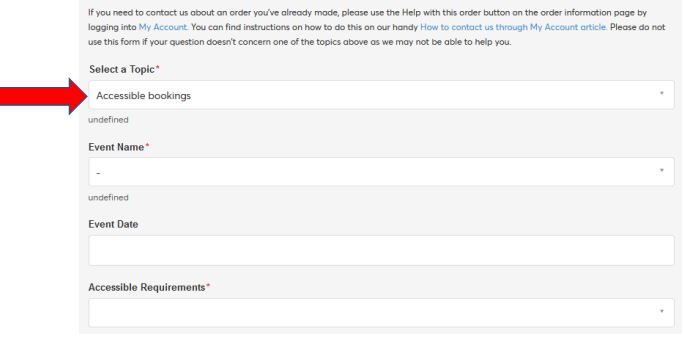 2. Please fill in all the fields below that by using the drop-down menus, letting us know what your accessible requirements are and your companion card number if you have one (state N/A if you do not). You can use the Question box at the bottom to tell us about anything extra you need us to know about your booking request.
3. Click the Submit bar at the bottom of the form and your request is sent to us. You will also have an automated email sent to you. This lets you know we have received your request as well as giving you a unique ticket number for your request.
How can I book a ticket using a Companion Card?
If you hold a government-issued Companion Card for people with disabilities who require a companion and are purchasing a full-priced ticket to a Ticketmaster event, you may be eligible for one free ticket for your companion.
For more information on the Companion Card scheme, please see the Australian Government site.
Venue Direct Bookings - Companion Card and Wheelchair Access
For accessibility bookings (companion card and wheelchair bookings) at the following venues, please contact the venue directly.
NSW
Sydney Lyric - https://sydneylyric.com.au/visit/accessibility.aspx
The Capitol Theatre - https://capitoltheatre.com.au/visit/accessibility.aspx
WIN Entertainment Centre - 02 4220 2884
WIN Stadium - 02 4220 2884
SA
Thebarton Theatre - 08 8443 5255 or admin@thebartontheatre.com.au
VIC
Athenaeum Theatre - 03 9650 1500, Mon to Fri 10am to 4pm
Festival Hall - 03 9329 9699
The Palms at Crown - 03 9292 5103
Venue Direct Bookings - Wheelchair Access Only
Please note Ticketmaster Customer Service can book accessible seating and companion cards without wheelchair access for the following venues. If you require wheelchair access for these venues please contact them directly on the phone number listed.
VIC
Melbourne Recital Centre - 03 9699 3333
WA
Perth Concert Hall – 08 9231 9999