Ticketmaster, on behalf of its clients, strives to make it as easy as possible to purchase accessible seating tickets for venues across the country. Most venues offer accessible seating areas to accommodate their guests. Availability and type of accessible seating tickets will vary based on each venue's policies and/or the type of event taking place.
Booking accessible tickets
How do I book accessible tickets?
Accessible tickets can be purchased online directly from your event's interactive seat map or by contacting us at 1300 446 925. Fans who are not purchasing or requiring assistance with their accessible tickets order won't be serviced on this line.
Accessible tickets are reserved solely for fans with disabilities and their companions. Fans who abuse this policy could have their order cancelled.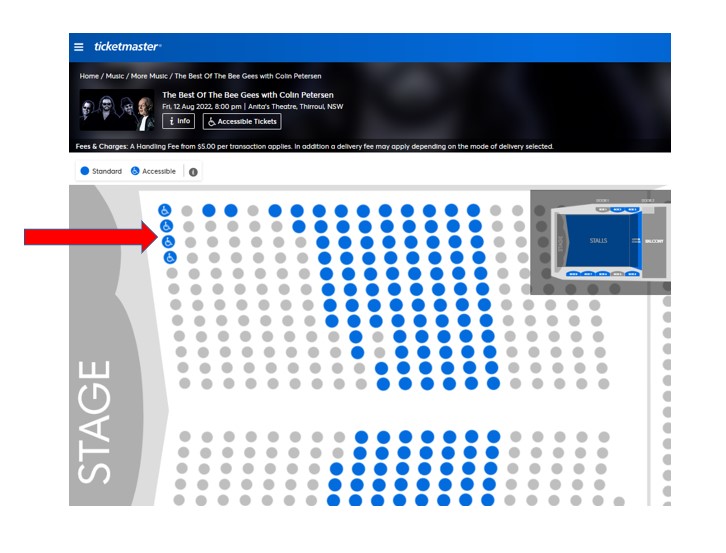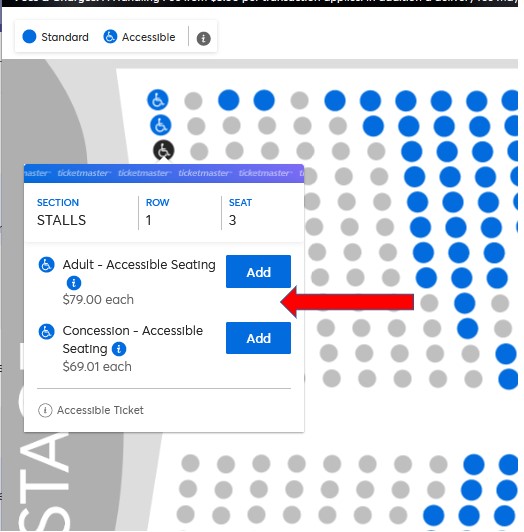 How can I book a ticket using a Companion Card?
If you hold a government-issued Companion Card for people with disabilities who require a companion and are purchasing a full-priced ticket to a Ticketmaster event, you may be eligible for one free ticket for your companion.
For more information on the Companion Card scheme, please see the Australian Government site.
How do I see the types of accessible tickets available for my event?
The number and types of accessible tickets available varies by event and venue. To see what accessible tickets are available for your event follow these steps:
Select the Filter button.
Toggle the Show accessible tickets switch and the types of accessible tickets available for that event will appear.
Select the Apply Filters button.
Click or tap a section on the interactive seat map to see how many accessible tickets are available, as well as their location within the section and price.
What should I do if my interactive map doesn't display accessible tickets?
Some venues only sell accessible tickets at their box office. Click Accessible Tickets under the event title or tap the i icon on the app to find out more information for accessible tickets policies for each event and venue.
There are events where Ticketmaster isn't the primary ticket seller; tickets are posted for sale by third-party sellers or other fans. In this case, we can't guarantee that accessible tickets will be posted for resale. So, if you require accessible tickets for these events, contact the primary ticket seller and/or the venue box office to check on availability of accessible tickets.
Booking directly from the venue
Companion Card and Wheelchair Access
If you're booking companion card and wheelchair tickets, select your location to find the venue's contact information.
NSW
SA
Thebarton Theatre - 08 8443 5255 or admin@thebartontheatre.com.au
VIC
Athenaeum Theatre - 03 9650 1500, Mon to Fri 10am to 4pm
Festival Hall - 03 9329 9699
The Palms at Crown - 03 9292 5103
Wheelchair Access Only
If you require wheelchair access for the venues below, contact them directly through listed the phone number. Ticketmaster can only book accessible and companion cards without wheelchair access for the following venues.
VIC
Melbourne Recital Centre - 03 9699 3333
WA
Perth Concert Hall – 08 9231 9999