If you require an EFT refund there are a few guidelines below to assist you in obtaining your refund quicker:
Before we can begin to process the EFT Ticketmaster must ensure that they are dealing with the credit card holder of the booking to be refunded. This may not necessarily be the Ticketmaster Account holder.
We must confirm that the following match the details in your Ticketmaster account:
Card holder's name and address
Phone Number
Last four digits of the card used to make the purchase
Providing the email address linked to the booking also helps our agents ensure they are dealing with the correct booking.
There is some important information we need customers to provide on the EFT request to ensure we can process their EFT without having to go back and forth asking for more details.
Always provide your ACCOUNT NUMBER, (also referred to as customer, booking, order, reference, or confirmation number). The number will typically appear as follows: 12-34567 or 1-23456/AUS – some examples can be found below to assist you to locate this information.
Ensure ALL details provided match those on your booking.
All blank areas on the EFT above Office Use Only MUST be filled in. Please use legible writing in a pen dark enough to be visible when electronically sent back to us for processing.
If you have an international bank account please put the following into the BSB Number section: SWIFT/BIC (Bank Identifier Code, Branch Number, IBAN, or Routing Number (depending on the country of your bank). You MUST also provide your full name, full bank name, and bank address in the boxes provided on the EFT form. Please check your bank does accept AUD.
Send the fully completed form, along with VALID PHOTO ID to customer.service@ticketmaster.com.au. DO NOT send it by replying to the agent who sent you the form.
Important Notes:
Ticketmaster cannot send the refund to a different person/third party account, nor can we send it back to a different credit card.

Any missing details will require follow up and delay your refund.
Following the above instructions fully will mean we can help get your money back to you as quickly as possible.
Finding your Account/Order number: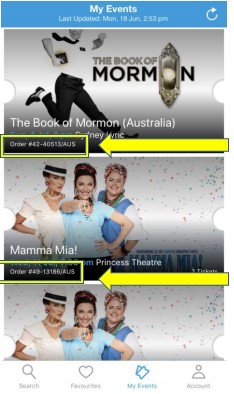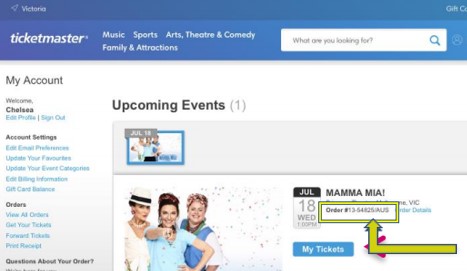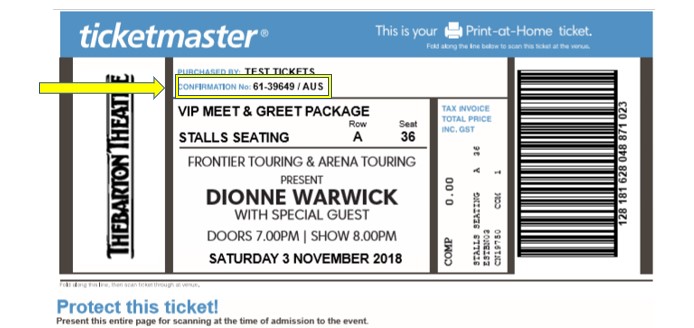 Sample EFT correctly filled in: